If you are spending some of your quarantine looking at other people's beautiful interiors wishing you were stuck there rather than your own place, you're not alone. I feel like I am somewhat planning my next home in case we are stuck in another pandemic in the next 5 years. Anyway, in honour of the Number 10 baby being born, I've decided to start sharing some interior inspiration starting from the nursery. I won't be needing one any time soon, but they are still a lovely thing to look at!
Neutral colours
Seemingly the only colour combination available to you if you consider yourself a social media influencer (that's the colour of every house of big names on Instagram), but for once it may not be such a cliché idea. Neutral colours allow for a gender-neutral nursery which look spacious and sweet.
Green and Greenery
Bold colours whether for accents only, or the whole walls, are a winner with me. More subdued greens than deep dark ones, not so much, but to each their own taste…
Real nursery renovation featured on Bloom and Bundle.
And another real nursery, this time from Delightfully Chic

Nautical
I'm about to get controversial here, but the 3 people I know who are the most obsessed with all things nautical (including me) are women. Why is it still so strongly associated with boy decor? Very little of it is actually gendered if you don't make a sign saying "Little Man Cave, No Girls Allowed", really.
Promotional image for DiviArtsStudio on Etsy. I wonder if they take commissions and will draw me a shark.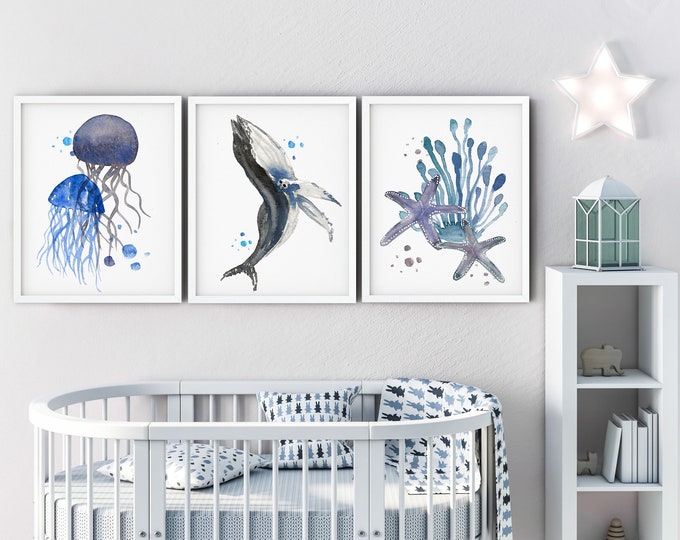 The absolute sweetest sea-based decor if you really feel that splashing dark blue on the walls is not gender-neutral enough. Promotional image for the Crib Sheet by Petit Pehr, available on PoshBaby.com.
I'm a big fan of maps and although I prefer brown antique ones, this nursery by Fairytales are True (as reported on SheKnows.com) is a winner with me.
Rustic
I wonder if putting your nursery on a blog is a very American thing, because when I thought of rustic and country-house style interiors the images that came to mind were of Southern-inspired spaces.
A Little Adventurer's room on StyleMePretty.com

And the same style of crib but in white (courtesy of the children's blog at CuisineRecettes.com)
Vintage
Hands up if you prefer good old-fashioned brass and actual copper to the blogger's favourite rose gold. Metals are not the only possible vintage touch, but they are an easy way for that timeless feel without the end result looking like you are trying too hard.
This crib is a dream. Design by House of Hanes Interiors.
Big fan of the window frames as a piece of décor, but my true favourite here is the stunning chest of drawers.
And, lastly, a trip into Victorian England with a floral wallpaper. It may be the most obviously feminine of the rooms so far, but I think it doesn't have to…still, there are plenty of 19th century patterns in wallpapers these days, this is just to feed your imagination with beauty.
Promotional image for Mr Perswall's Vintage Blossom Wallpaper available at
I hope you enjoyed this excursion through 5 favourite styles of nursery décor that are in at the moment, but also timeless if that's your style. Feel free to share what you liked the most, or your favourites that are not mentioned here. Or even better, if you have a nursery you decorated, I'd love to see it.