In last week's Soul Care installment I talked about spiritual health. One way in which I take care of that is to have constant little reminders to raise my sight to God. My phone background rotates Bible or saints' quotes, my iPad is fixed on Romans 15:13, my laptop is just a photo of flowers because I'm hopeless at keeping a clean desktop…I get intentions reminders from the Echo app, and have a home altar on the top shelf of my bookshelf. What is missing is, aside from a flag hanging from the door of my wardrobe, anything hanging on the walls. That's the downside of renting and being forbidden from hanging things on the walls. So, instead of being a post about what my home looks like, it's a post about what I wish I had in my home. I'm sure it'll be full of lovely things and perhaps brands you didn't know.
Grace Before Meals Poster – Be A Heart Designs for Blessed is She

This poster has been on my wishlist for literal years. I'd love to have a separate dining area big enough to host small dinner parties one day, it's one of my priorities and it was before I started reading all the books by Sally Clarkson (I'm an Italian woman of Jewish descent, I couldn't escape hospitality as my gift if I wanted to!).
Prayer of St Teresa of Avila – Beguima Studio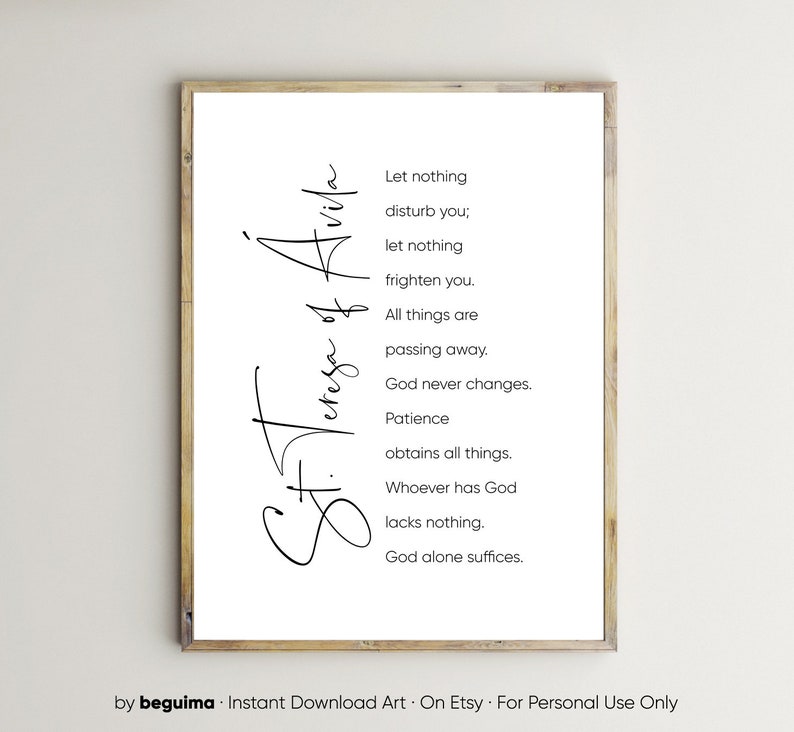 I'm probably buying this poster already and just putting it against the wall on the bedside table instead of hanging it. I love this prayer, especially its sung version by the Dominican Sisters of Mary, Mother of the Eucharist. It's great comfort to me when anxiety is high, and I'd love to also have this beautiful written version at hand.

Joshua 24:15 Sign by Woodland Shanty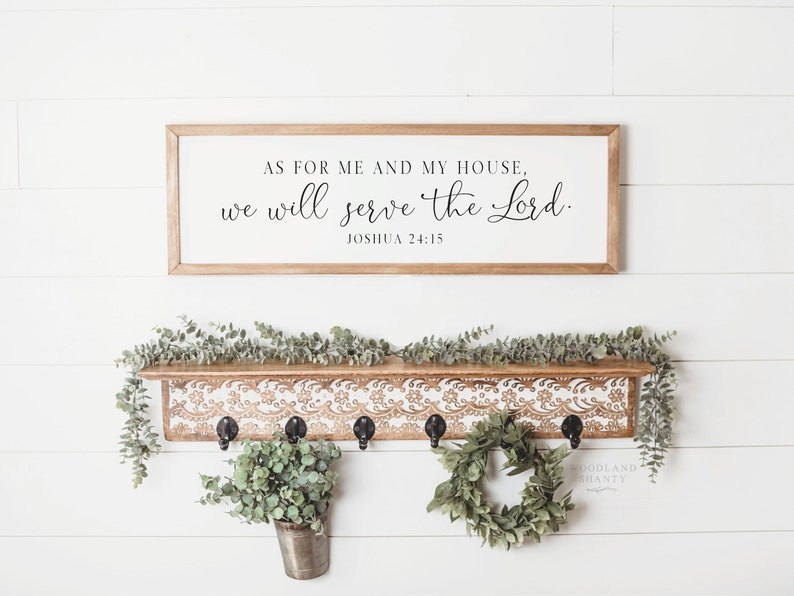 To be fair, there are plenty of versions of this one that are to my taste, including a huge wall decal, but I like the composition of putting it on top of a coats hanger in the corridor, so I picked this one for illustrative purposes.
Antique French-Style Holy Water Font by My Vintage French House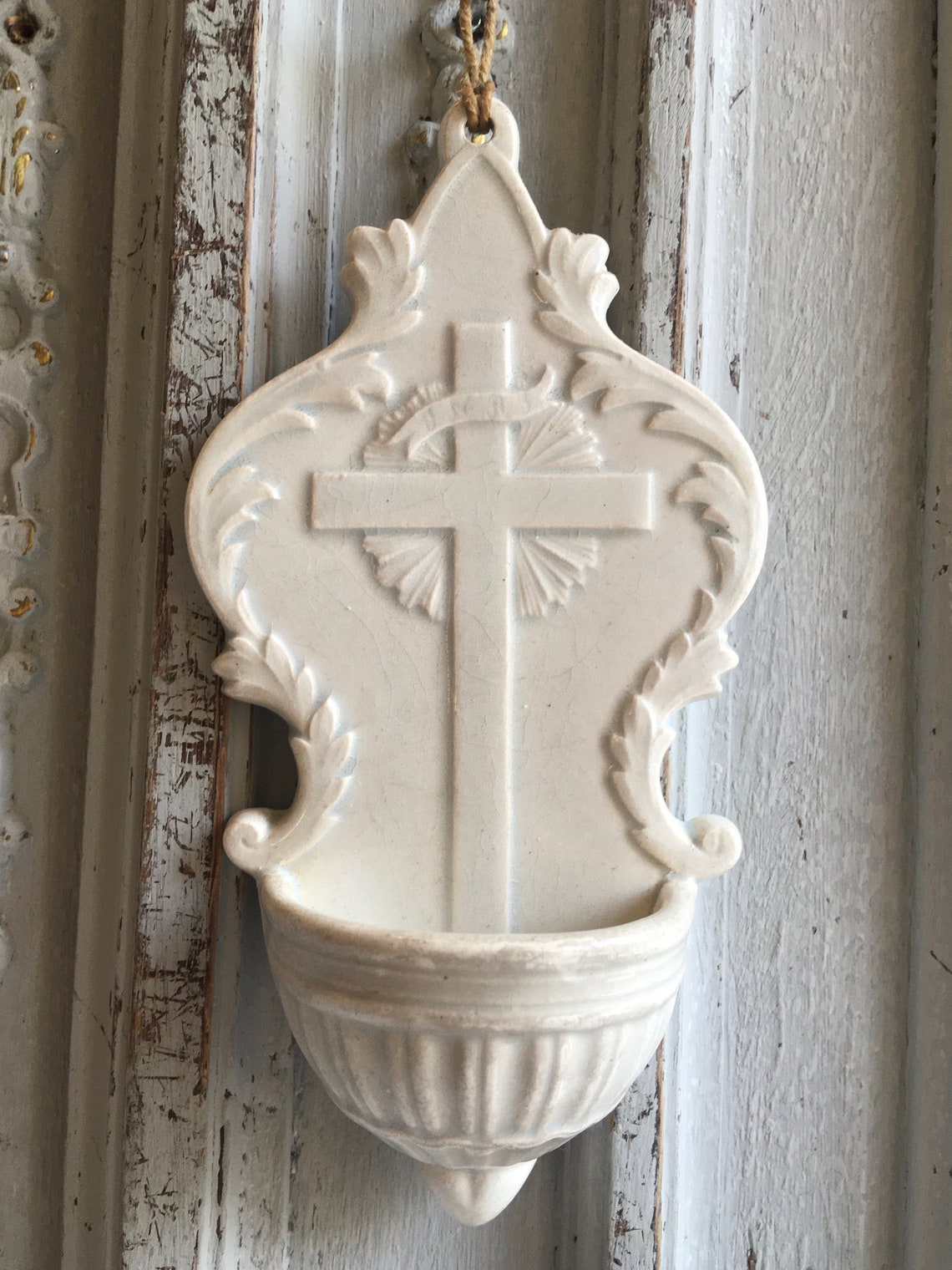 I just LOVE these discreet porcelain water fonts, and I think one would be a lovely addition to the hypothetical corridor from the previous entry…pretty handy to serve as a reminder on leaving the house of Whose we are and Whom we serve as we go about our day.
Botanical Rosary Poster by Rose Harrington
I'll be surprised if someone read this and did not know about this beautiful botanical Marian art, which is deeply rooted in the traditions of the Church in Medieval Europe. Since I'm a city slicker whose dream would be a flat in Chelsea Barracks (handy for shopping in the design district), having a Mary Garden is not an option unless I have a sizeable balcony, so this print is a great way to have a small taste of one in a flat (in Chelsea or otherwise).
Alabaster bust of the Blessed Virgin Mary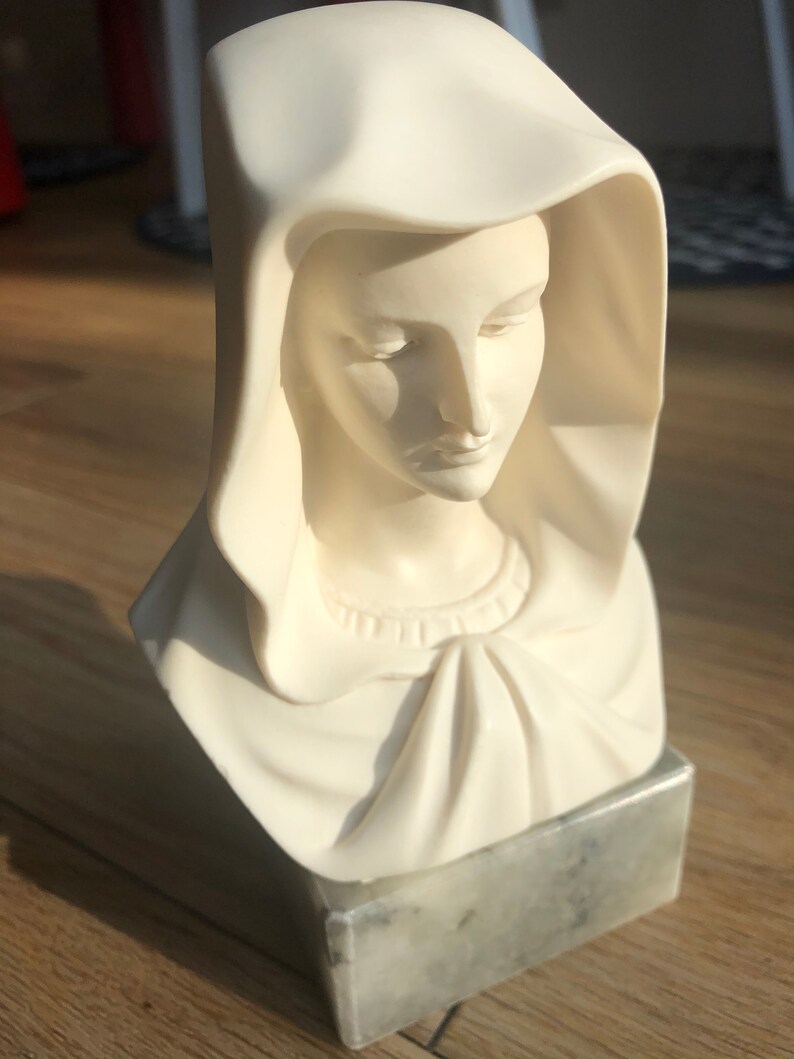 Various artists have made one, so
by A. Giannelli and sold by Kingfisher Vintage is for illustrative purposes only. You probably started to piece together my aesthetic as being nothing like most religious items you find at your average Catholic store, and I'd love this to be on a mantelpiece for my fake fireplace or an antique chest of drawers or something as a beautiful object that points to God because it is beautiful but also one that a trained eye can tell it's a representation that points to God also because it's a portrait of the theotokos.
Lace Card depiction of the Sacred Heart of Jesus by French School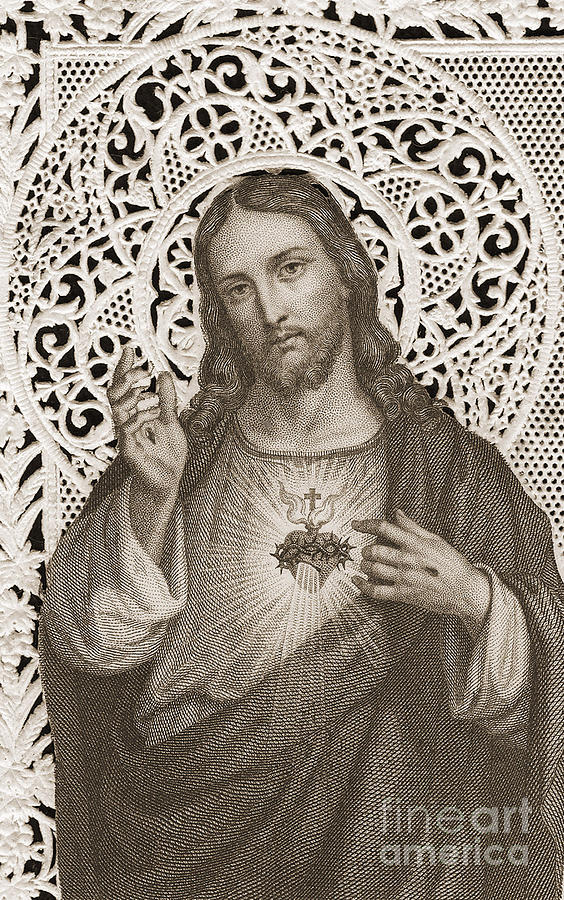 I have an image of the Divine Mercy on my home altar at present, but I have long been drawn to devotion to the Sacred Heart with nothing to show for it in my home. This is my favourite image of all of them, and it'd go swimmingly with the aesthetic of all the choices so far so that it wouldn't be reserved for the prayer corner only.
St Francis de Sales quote on Mary by Sweet Little Ones Shop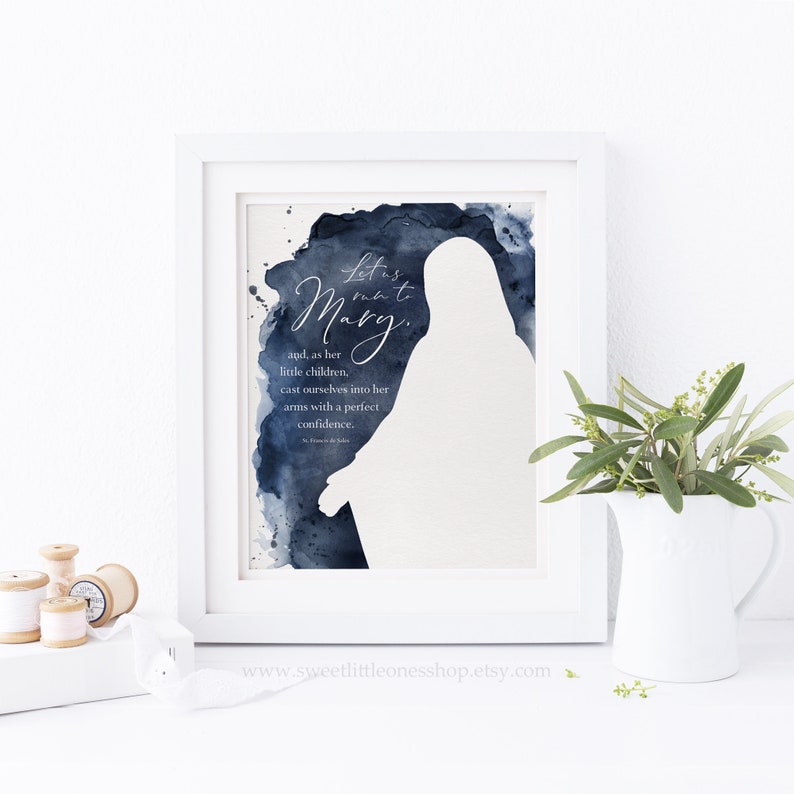 I know that, technically, this quote refers to us all and not children specifically, but if there will ever be any little ones in the family this print is going straight in the nursery. I have some struggles with my devotion to Mary, particularly with relating to her as my mother, so I guess I should start the process early on for my children so that they won't have the same baggage that I have from my relationship with my mother as, God willing, the cycle of bad relationships ends with me.
Metal Eucharist Wall Crucifix (or similar)


There are many gems of this kind to be found in antique stores among other places. The standing crucifix I have now on my home altar is metal and blue and red, which have symbolic meaning, but I also love the symbolism of the cross as monstrance and vice-versa in this kind of crucifixes. I don't know why they are not more popular and everywhere I go I just see chunky wooden crosses.
Do you have any favourite Catholic items for the home? I'd love to see them in the comments or Twitter/Instagram.